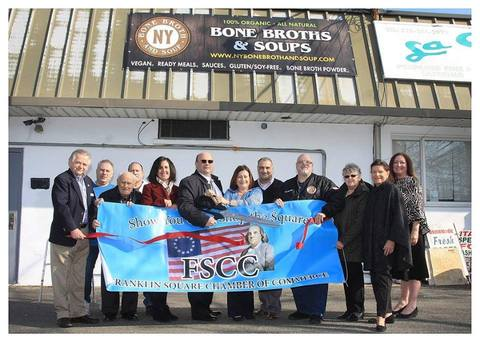 FRANKLIN SQUARE WELCOMES A NEW BUSINESS
Thanks to NY Bone Broths for offering their full line of Organic Bone Broths, Soups, Chilis and Sauces, to Due Amici for their Home Made Preserves and Salsas and to Carmela's Confections for their amazing Cheesecakes.
We thank the Franklin Square Chamber of Commerce and all the Local Government Officials for officially welcoming NY Bone Broth and Soup to Franklin Square!
A beautiful day, beautiful people and beautiful neighborhood!
NY Bone Broth and Soup, a Division of La Gustosa Food Products & Imports, offers the Finest, Small-Batch. Organic Bone Broths, Bone Broth Based Soups, Sauces & Chilis.